Treatment of ulcers and chronic wounds
Based on a peer-reviewed paper (Acute Care 2018).
The advantage of vibrotherapy over other rehabilitation methods is manifested in its comprehensive effect. In one go, we get an increase in microcirculation, a reduction in oedema, a reduction in pain and a reduction in stiffness.
The aim of the study, published in the journal Acute Care in 2018, was to review the literature on the therapeutic use of vibration in the treatment of wounds and ulcers. Additionally, it focused on a case study of a middle-aged woman with healing wounds on her foot.
Vibrotherapy accelerates the healing process by stimulating angiogenesis, increasing levels of the monocyte chemotactic protein MCP-1, vascular endothelial growth factor VEGF and insulin-like growth factor IGF-1 in the wound.
Two different signal frequencies of 30 Hz and 100 Hz, combined with two acceleration rates of 0.15 g or 1 g increased macrophage numbers significantly after 3 days of stimulation.
The benefits of vibrotherapy in tissue regeneration have been shown to be based not only on reducing inflammation, but on stimulating pro-healing macrophages, which are responsible for phagocytosis, proliferation, angiogenesis and collagen spreading.
Vibrotherapy applied three times a day, for 30 minutes, resulted in up to 62% of patients getting rid of ulcers in just seven weeks.
Vibrotherapy treatments resulted in a reduction in pain in 94% and a significant reduction in exudate in 52% of patients.
Computer analysis of peripheral measurements of the lower leg showed up to 15% reduction in limb volume.
Case study of a 59-year-old woman with healing wounds.
Case study
Mrs Teresa is a 59-year-old woman who declares herself to be a happy and fulfilled person. Unfortunately, she harbours a sad affliction that turns every day into anguish. The reason for this is her healing wounds. Mrs Teresa has a history of a long, arduous and uneven battle with venous ulcers. These symptoms, are the result of deep vein thrombosis and the presence of varicose veins. The woman's wound was accompanied by the presence of necrotic lesions, frequent leaks and an unpleasant odour. The patient complained of fatigue, a feeling of heaviness in the lower limbs and frequent cramps. This lasted for more than 30 years. By then, she had undergone varicose vein removal on more than one occasion, and due to the purulent condition and the constantly, opening wound, she required a daily change of dressings with silver to control the exudate.
Mrs Teresa used vibrotherapy with the Vitberg+ Rehabilitation Massage Apparatus. For 2 weeks – in the mornings and evenings, in the comfort of her home, she carried out the treatments on her own in the A-Legs programme with the Legs module, starting at the lowest and ending at the third intensity.
In between the drainage treatments (A-Legs), also daily, Ms Teresa used the B-Knee programme with the Knee module. At the beginning of the therapy, her pain complaints according to the VAS (visual analogue scale) were 10 (where no pain:0; unbearable pain:10) or were described at times as unbearable. She also often had difficulty falling asleep and getting adequate rest. Her skin was extremely sensitive – she reacted with pain to even the gentlest touch. The wound area was 19.8 cm2, where the longest axis reached up to 5.5 cm. After 2 weeks of therapy, the pain intensity decreased to level 3 (moderate) and her mobility improved, significantly. After therapy, there was little exudate and the ulceration decreased day by day to an area with healthier pigmentation and a wound area of only 0.3 cm2. This represented a 98% reduction in ulcer area and an average wound reduction of 1.4 cm2 per day. Importantly, this trend has continued. A significant reduction in swelling around the ankle was also observed.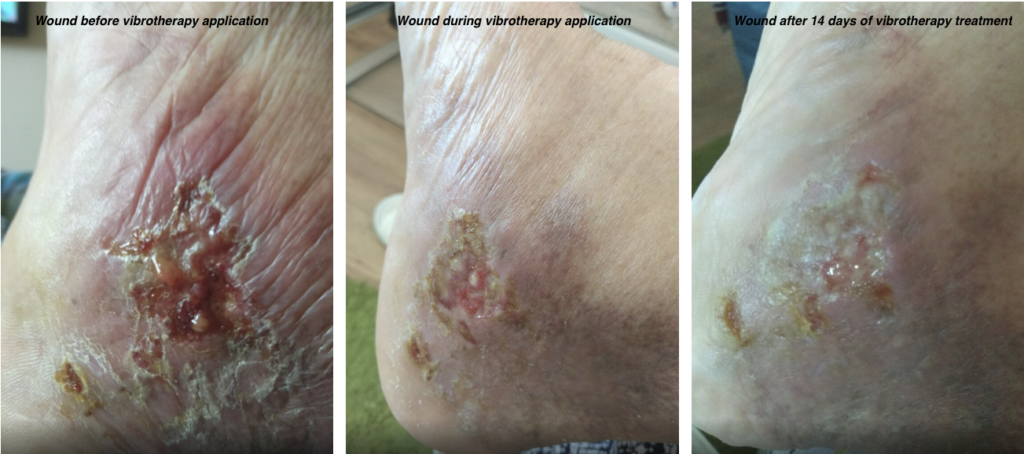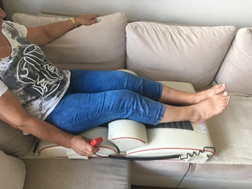 The treatment is not yet complete. In order to maintain the effects, vibrotherapy is continued after the wound has completely healed and the patient's further progress is reported on an ongoing basis. So far, only knee position treatments are being performed – 2 cycles per day at 3 intensities. As noted, better results have been obtained in this position and programme, especially manifesting in increased quality of life and activity.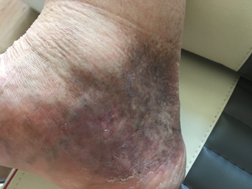 Patient during treatment on the medical device: Vitberg+ Rehabilitation Massaging Apparatus in the Knee position and a picture of the patient's ankle after one month of daily use of vibrotherapy .
After the 34th day of using the apparatus, the ulceration still does not appear and the excessive sensitivity to touch has disappeared.
More in: